Highlights
Della Toffola Group Beer Division - An article on Imbottlgliamento
A new article on "Imbottigliamento" an italian bottling and packaging magazine. The article is focused on our beer division: ...
Continue
Della Toffola Group at ANUGAFOODTEC
A great success for Della Toffola Group at ANUGA FOOD TEC 2018, the international trade fair that has just ended in Cologne. The Della ...
Continue
A new video directly from Birmingham - AVE UK at the PPMA SHOW!
PPMA Show is the N.1 event in the United Kingdom for processing and packaging machinery. The trade fair is dedicated to manufacturers ...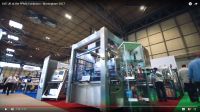 Continue
Della Toffola Group at Cibustec 2019 Parma
One of the main international events dedicated to agrifood plants, logistics and packaging returns to Parma.
22.10.2019 - 25.10.2019
Della Toffola Group at Gulfood manufacturing 2019
Gulfood is your unrivalled opportunity to source and select from an incredible global product showcase.
29.10.2019 - 31.10.2019
Della Toffola Group at BrauBeviale 2019
Over 40,000 trade visitors in 2018, BrauBeviale was the most important international capital goods exhibition for the whole beverage production process chain: raw materials, technologies, logistics and marketing.
12.11.2019 - 14.11.2019
Della Toffola Group at SIMEI 2019 Milan
Simei is the world's largest trade fair for winery and bottling machinery, is held every two years in Italy.
19.11.2019 - 22.11.2019
Della Toffola Group at SITEVI 2019 Montpellier
For its 40th anniversary SITEVI registered nearly 57,000 entries, and a noticeable increase in the number of international visitors (over 60 countries).
26.11.2019 - 28.11.2019