Highlights
Della Toffola Group at ANUGAFOODTEC
A great success for Della Toffola Group at ANUGA FOOD TEC 2018, the international trade fair that has just ended in Cologne. The Della ...
Continue
A new video directly from Birmingham - AVE UK at the PPMA SHOW!
PPMA Show is the N.1 event in the United Kingdom for processing and packaging machinery. The trade fair is dedicated to manufacturers ...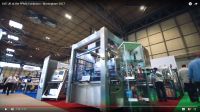 Continue
Della Toffola Group at Drinktec - SIMEI - 2017
Della Toffola Group is very busy making preparations to take part in Drinktec – SIMEI 2017, which takes place in Munich (Germany) ...
Continue
Della Toffola Group at Dairy and Meat Industry 2019
Pavilion 2 / Hall 8 - A411​ - Dairy & Meat Industry exhibition is the ideal place to research the market, conduct business with Russia's meat and dairy buyers
19.02.2019 - 22.02.2019
Della Toffola Group at BBTech 2019 Rimini
BBTECH EXPO is the exhibition dedicated to the technologies, equipment and accessories for the production and packing of beer and beverages.
16.02.2019 - 19.02.2019
Della Toffola Group at Djazagro 2019 Algiers
Stand CT E051 - Leading tradeshow in Algeria, Djazagro is the unmissable annual meeting. It's exhibitors answer to the different needs of our more than 20,000 professional visitors, looking for know-how, machineries and partnerships.
25.02.2019 - 28.02.2019
Della Toffola Group at Enomaq 2019 Zaragoza
In Enomaq 2016 you will find a comprehensive showcase of our very latest machinery and technologies applied to the wine industry in general, from the beginning of the process to the final product.
26.02.2019 - 01.03.2019
Della Toffola Group at Prowein 2019 Dusseldorf
ProWein is the leading trade fair for the wine and spirits industry, which takes place once a year in Dusseldorf.
17.03.2019 - 19.03.2019