Highlights
Our new video: Wine making technologies
Take a look to our new video on Youtube. Della Toffola Group Wine Making Technologies.
MORE VIDEOS ON OUR YOUTUBE CHANNEL
Investindustrial acquires the majority of Della Toffola
01/09/2020
Continue
Della Toffola Group Beer Division - An article on Imbottlgliamento
A new article on "Imbottigliamento" an italian bottling and packaging magazine. The article is focused on our beer division: ...
Continue
A new video directly from Birmingham - AVE UK at the PPMA SHOW!
PPMA Show is the N.1 event in the United Kingdom for processing and packaging machinery. The trade fair is dedicated to manufacturers ...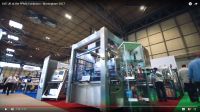 Continue